Place Your Logo And Go!
---
Buying a Business: Due Diligence Checklist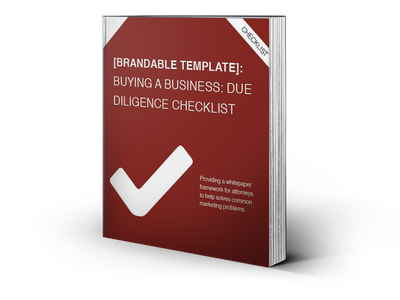 As fellow attorneys, we understand that your time is limited. There is no need to reinvent the wheel, so we thought we'd share some resources of our own.
Throughout our White Label Legal Series, we will be sharing client focused templates, free for you to use and repurpose. No strings attached.
Simply download and place your logo on this checklist and pass along to your clients. Not only will you be happy with how easy this was, but your clients will appreciate you keeping them top-of-mind.
In this checklist, they'll learn what information and documents they should review in regards to things like:
Financial information
Intellectual property
Material contracts
And much more!
This ebook is a brandable template, so feel free to place your firm's logo and pass it along to your clients.